Weekly update via live feed and social media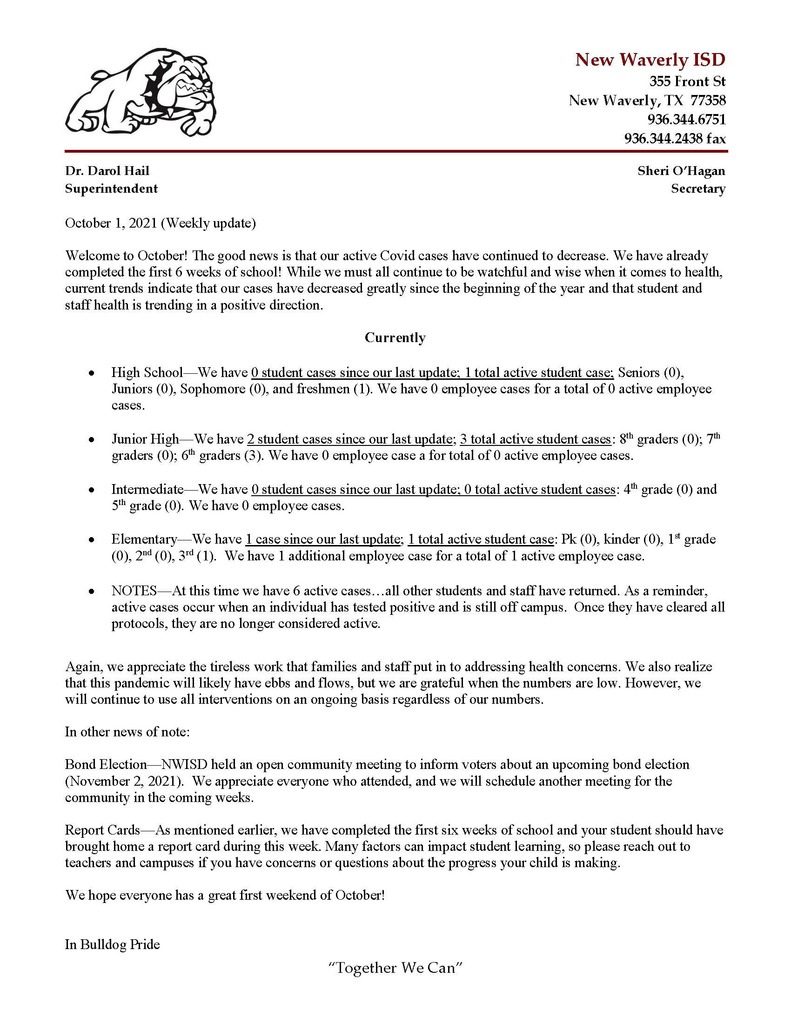 Tonight's 7th, 8th, and Junior Varsity football games will begin at 4 pm and will be played at the New Waverly Junior High field due to an issue on high school field being repaired. Bring an umbrella as the forecast calls for rain!

Reminder: New Waverly ISD will host an open community meeting tonight @6:30 pm at the New Waverly Elementary Cafeteria. We will be providing information regarding the upcoming bond issue. Everyone is invited to attend!

Weekly COVID Update. Please continue to stay safe.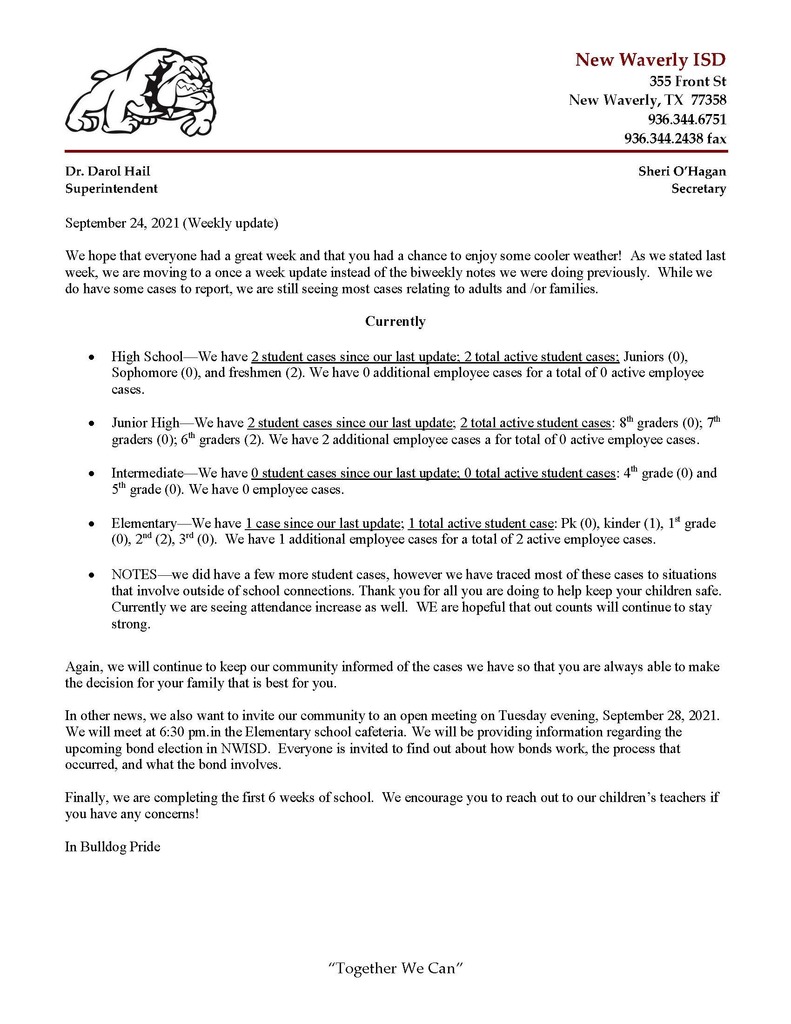 NWISD will host an informational meeting regarding the upcoming bond election @ 6:30 pm on Tuesday, September 28, 2021. The meeting will be held at the New Waverly Elementary Cafeteria. Everyone is invited to attend.

Weekly Covid Update. Please continue to stay safe.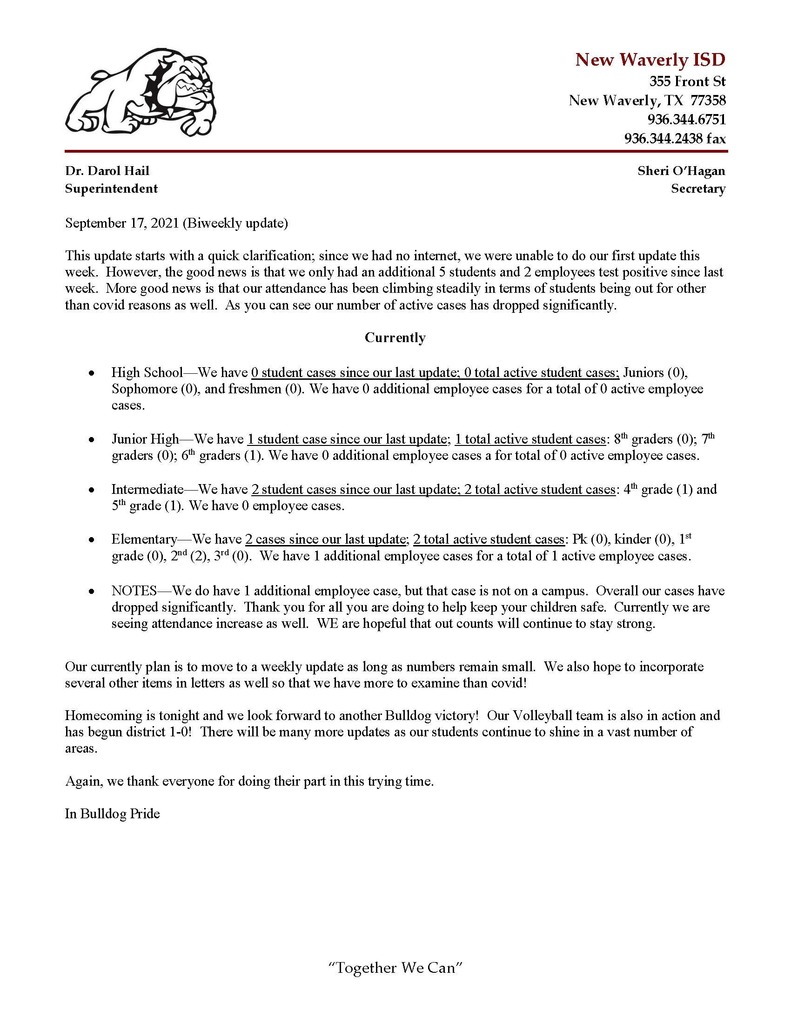 Good morning. Phone and computer lines are down in the district. The issue deals with the fiber line from Suddenlink. They are aware of their problem and they are working on it. We will update you as we get more information.

Based on the most current information for Walker County, we plan to have school as normal on Tuesday, Sept 14, 2021. Please see newsfeed or social media for further information.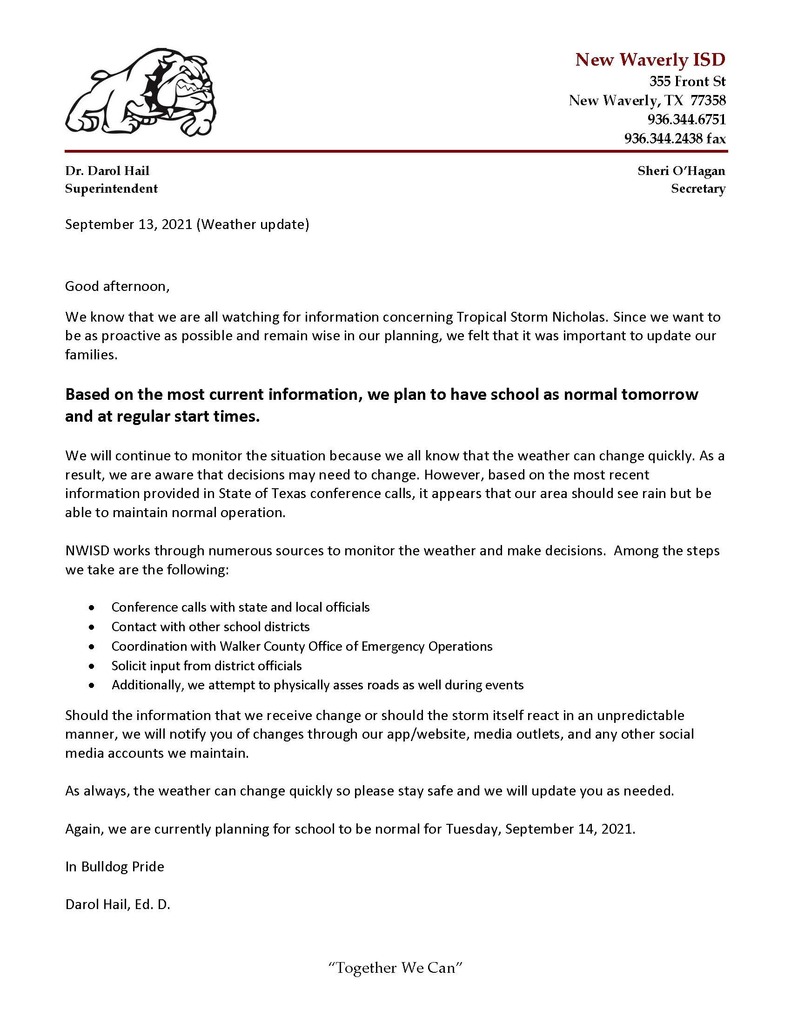 Biweekly update. Please continue to stay safe. We also pause in reverence to the anniversary of September 11 this weekend. Our thoughts and prayers go to any and all who were impacted directly or indirectly by the events that day.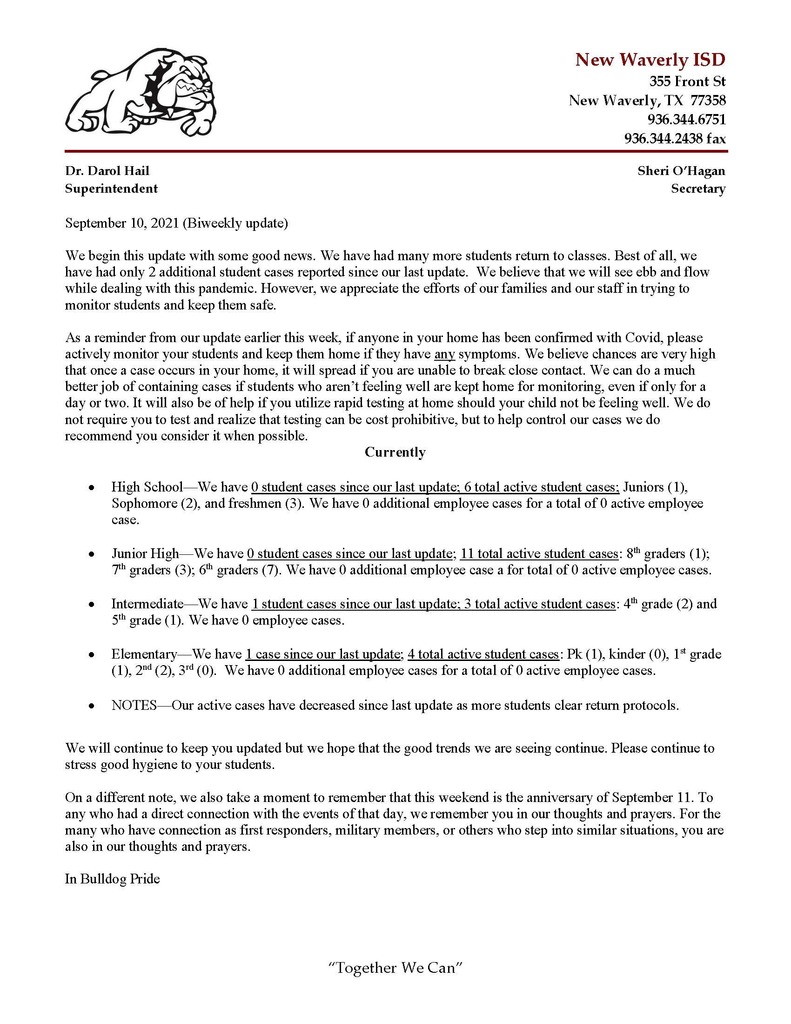 Biweekly update for Covid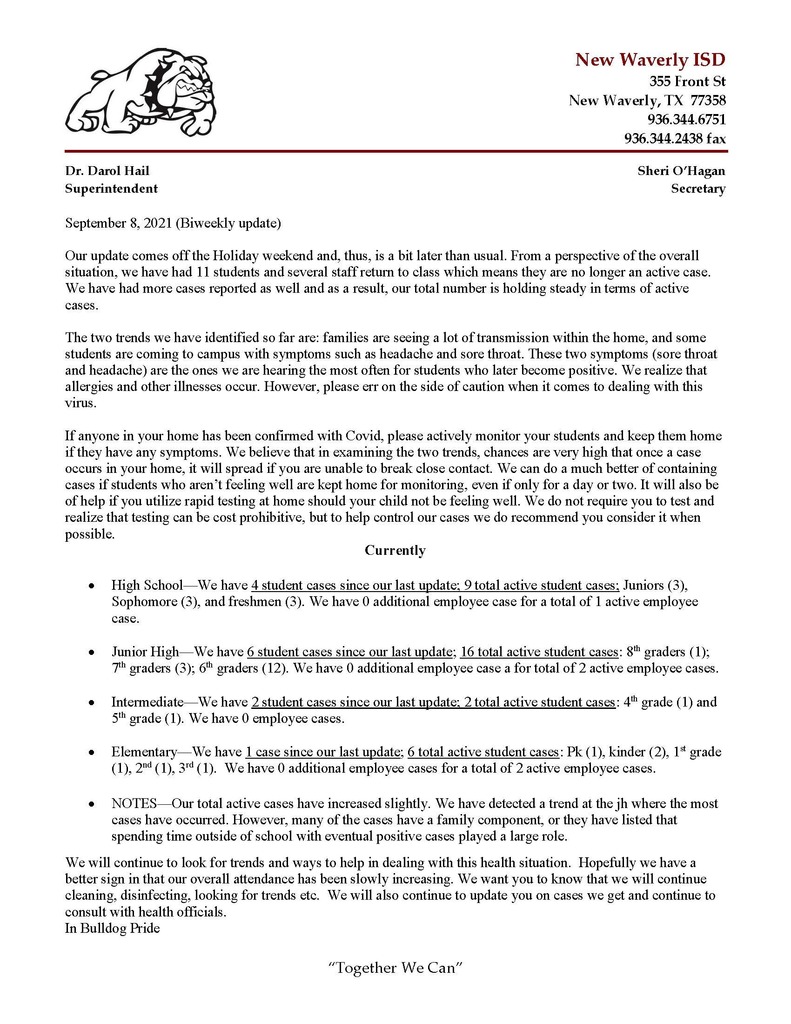 Here is our biweekly update. We hope you have a safe Labor Day weekend. Remember, no classes Monday!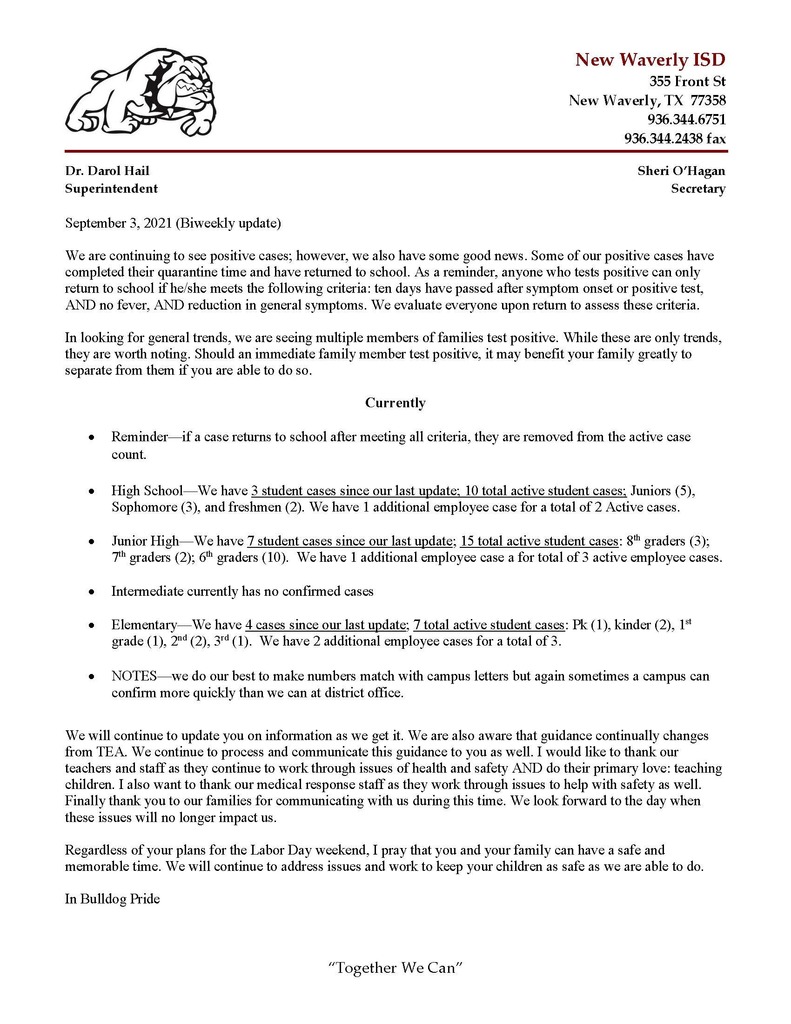 good afternoon. Here is our biweekly update via social media and live feed.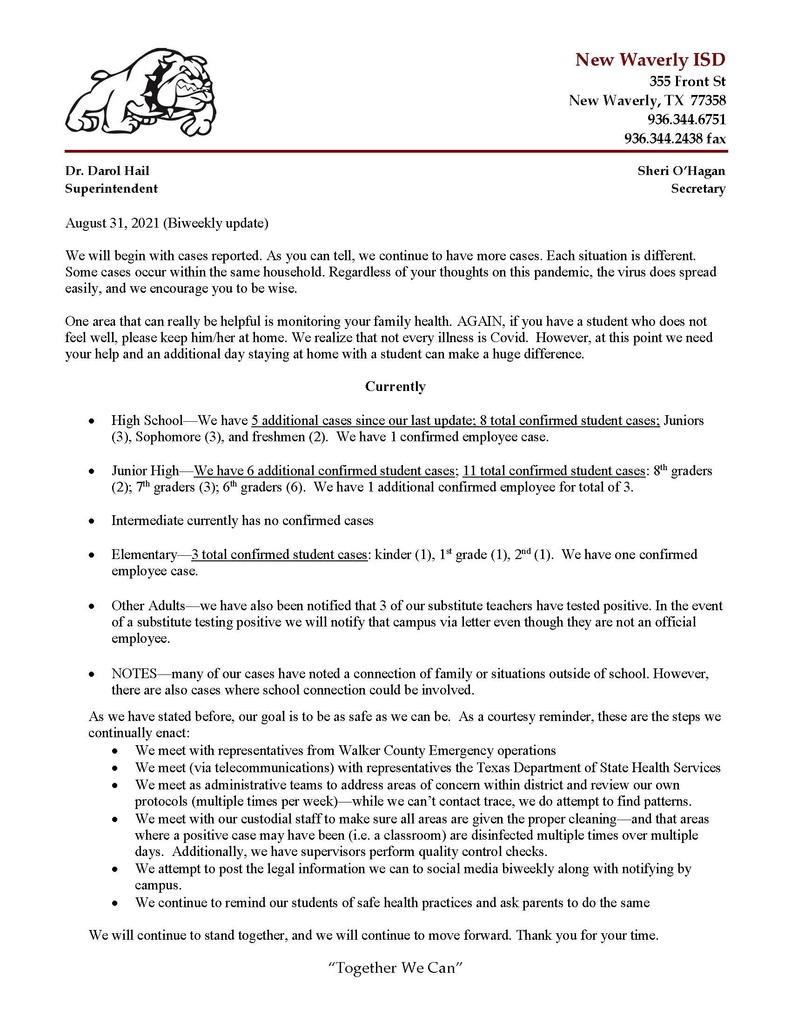 Please see our update for Friday Aug. 27, 2021. Letter available on social media and via our newsfeed through our app.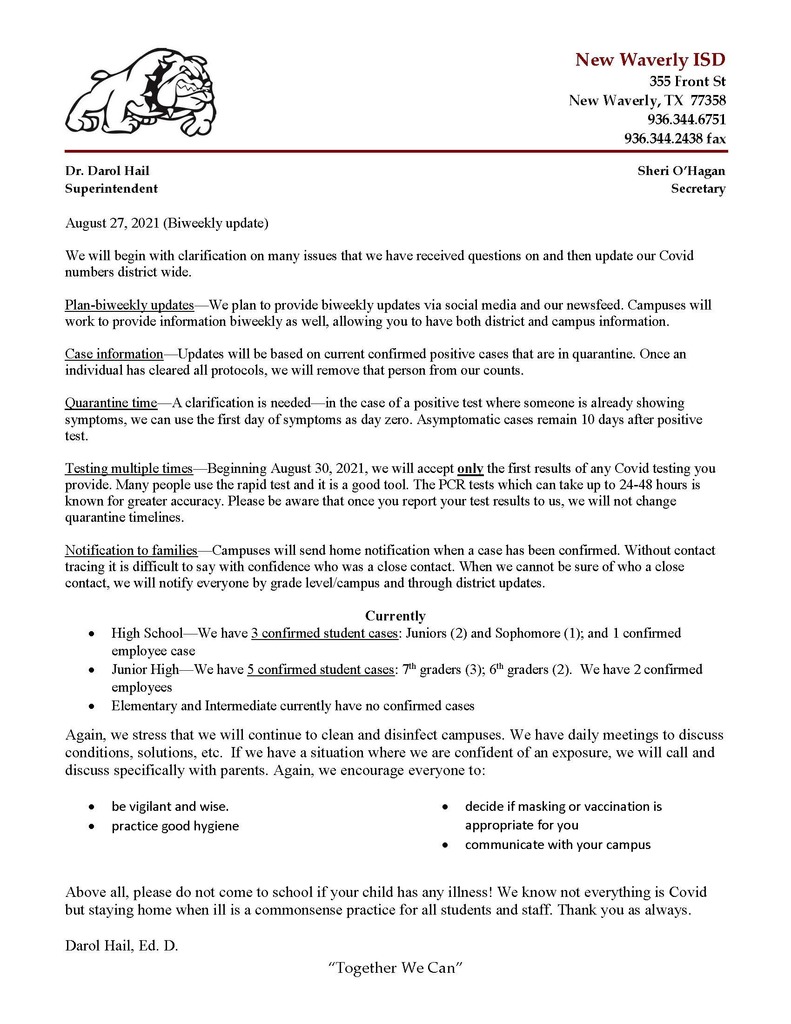 Please see out weekly update regarding Covid cases via the live feed or social media.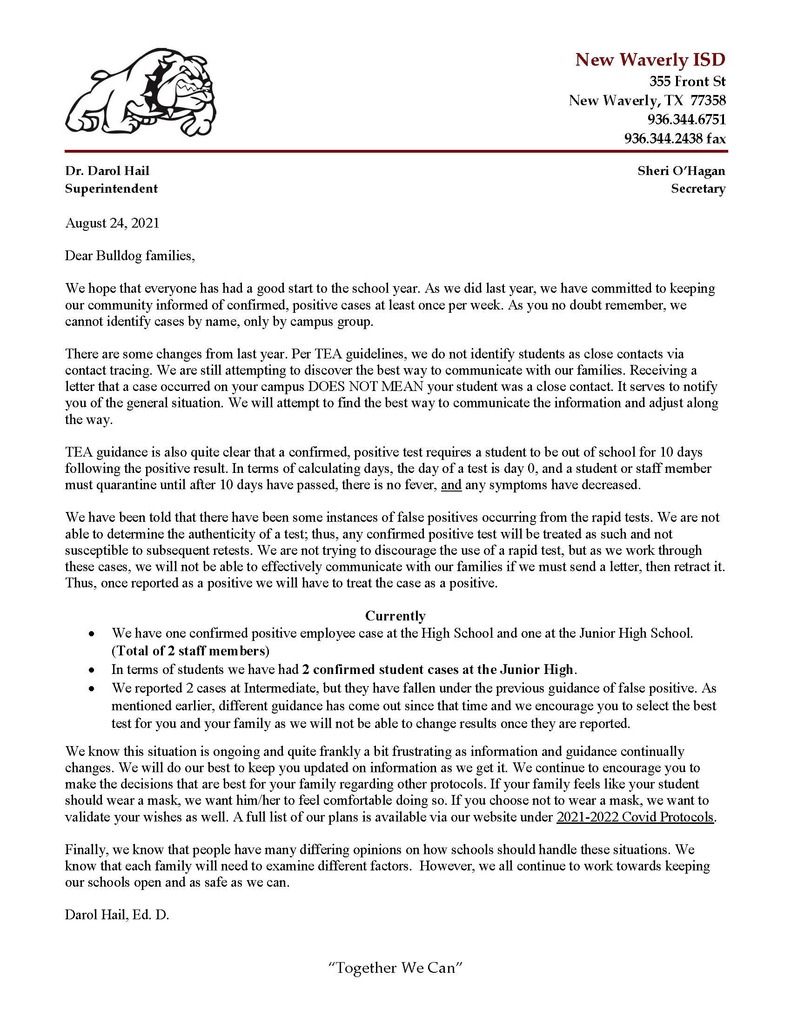 The New Waverly Public Library will be hosting a Back to School Immunization Clinic for children (age 18 and younger) with Medicaid or CHIP. August 4th and August 18th - 9am - Noon - BY APPOINTMENT ONLY. Please call (936)294-2170 to schedule your appointment.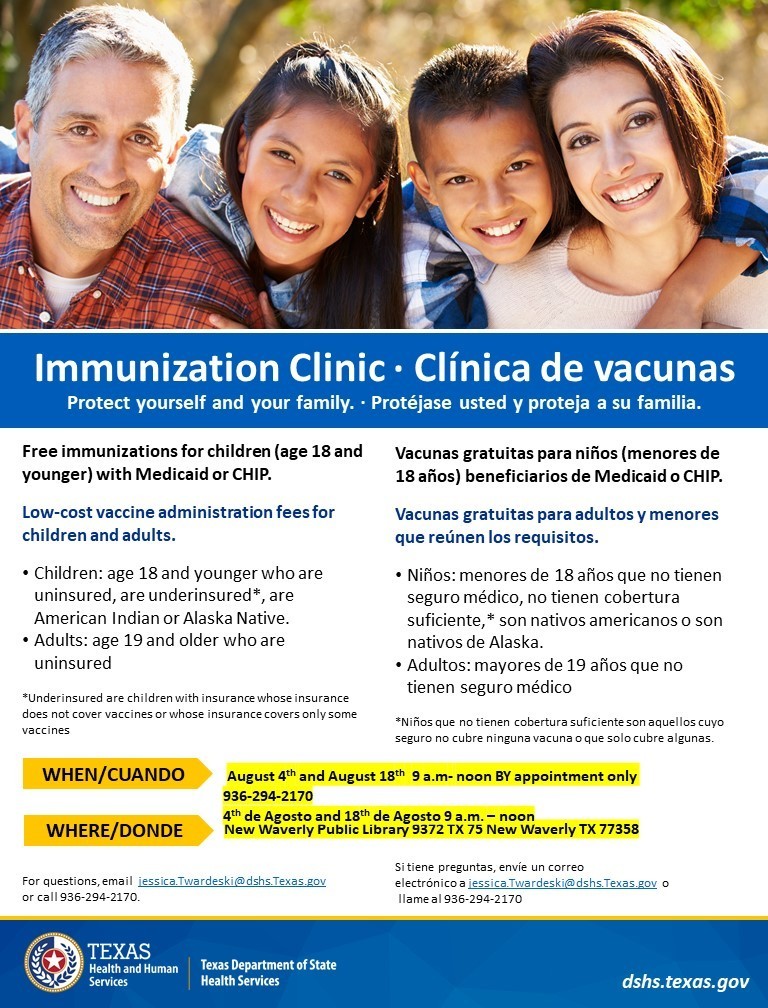 Dear Bulldog Families, I hope everyone is having a great start to their summer. Texas is again offering the Pandemic Electronic Benefit Transfer (P-EBT) for eligible families. Please see the attached flyer for more information and the below link to the application. Application Link:
http://yourtexasbenefits.com/Learn/PEBT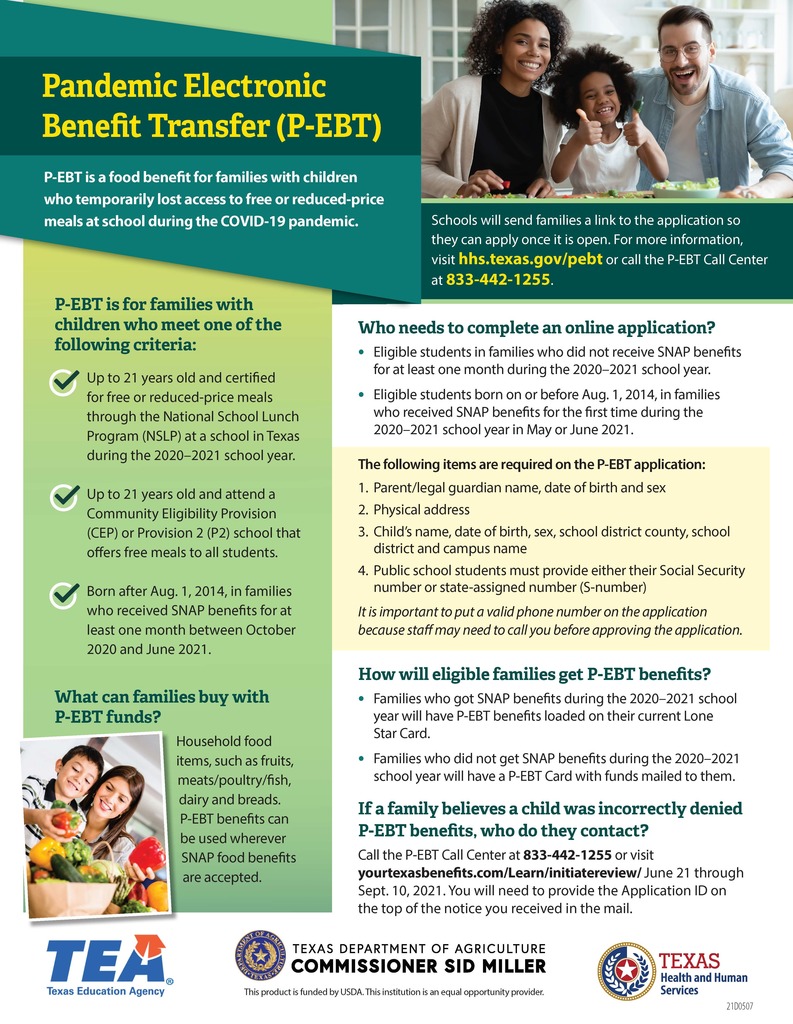 Important update: Senior awards will take place tonight in the High School Gym due to possible weather conditions. Awards will begin approximately at 7:00pm (or after the the senior drive-through parade weather permitting).

Update: NWISD will be offering once a week meal service for the summer of 2021. (Breakfasts and lunches for the week may be picked up for any NWISD students) Please see note from food service for details and schedule (via live feed or social media)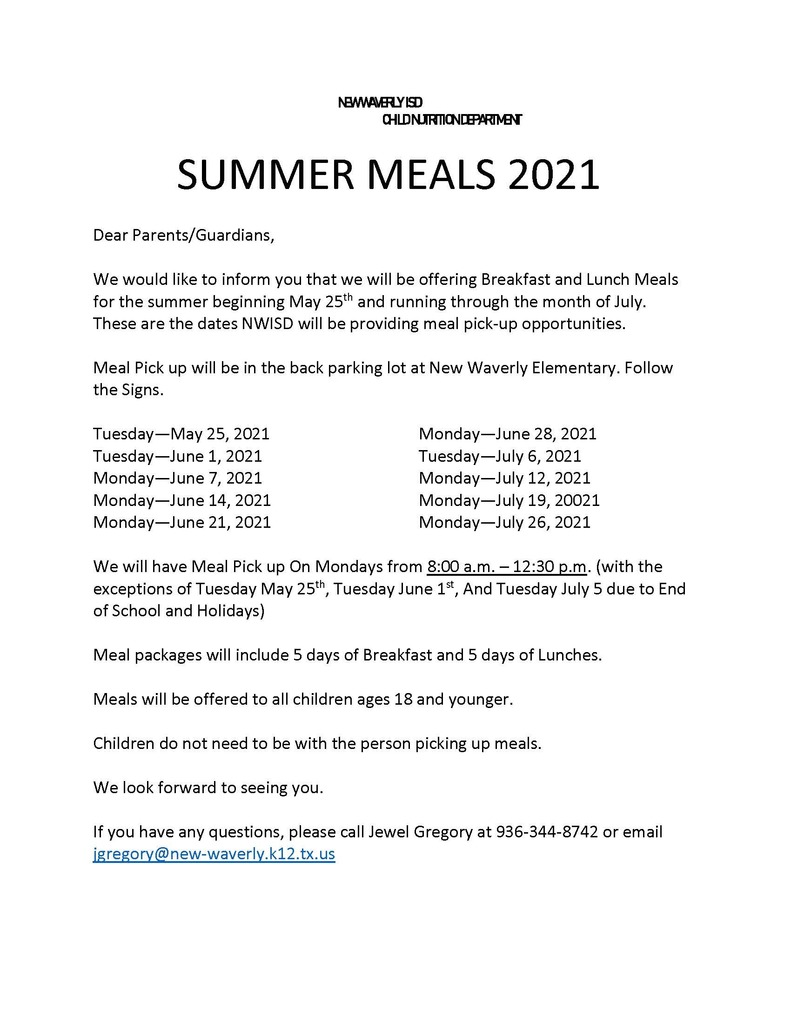 Hello Bulldogs, Please see the attached Technology Device Check-in Schedule. We will start this week checking in laptops, hotspots, iPads, etc. that you have checked out from the school. Please make sure to bring all items on the day that your campus/grade is scheduled to turn them in. Thank you, Technology Department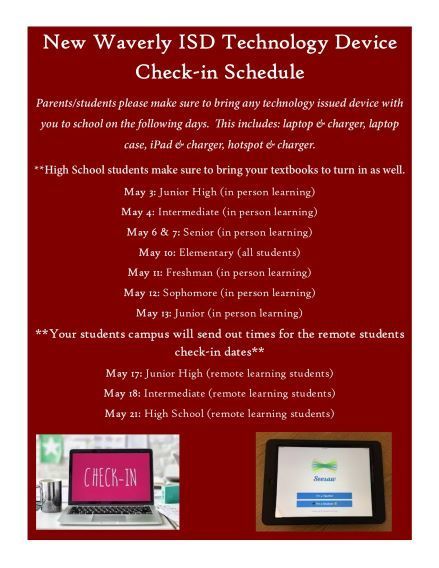 School will dismiss today at regular time; however, busses will be running earlier due to fewer riders and traffic. Softball playoff game and Baseball Home game are postponed this evening and will both be played Saturday, May, 1 in Madisonville.